History of Ship Alley and Princes Square, Stepney, East London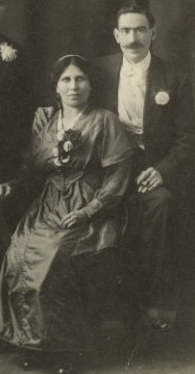 When Morris and Esther got married in 1904 they were living at 4 Ship Alley. When Fay was born in 1905 and Rachel in 1907, the address given on their birth certificates was 11 Ship Alley. By the time of the 1911 census, they had all moved to 26 Princes Square. It is believed Morris arrived in the UK in 1900 but as he does not appear to be listed in the 1901 census, it is not known when exactly he moved into Ship Alley.
As Ship Alley and Princes Square no longer exist, some research has been undertaken to find out more about these places and the surrounding area at the time that Morris and Esther lived there.
Entrance to Ship Alley from southeast corner of Wellclose Square, 1898

Wellclose Square 2009. A park is now where Ship Alley was.
The tree on right is the same tree.
Both Ship Alley and Princes Square are listed in the Dickens Dictionary of London 1888, as streets containing Lodging Houses. These were under the direct supervision of the police to ensure cleanliness and fair rents (about 15 shillings a week – 75p).
Location
Ship Alley was located at the bottom right (South East) of a square called Wellclose Square, Stepney, East London named after the Well House which was still standing when Morris and Esther lived nearby. In fact Wellclose Square has quite a history and even has its own entry on Wikipedia. Wellclose Square is situated between Cable Street to the north and the Highway to the south. Princes Square is to the east of Wellclose Square.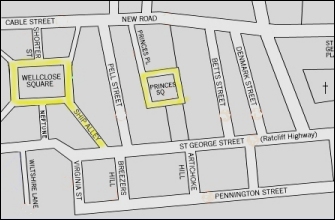 Also leading from Wellclose Square was Neptune Street and at one time Wellclose Square was known as Marine Square indicating the closeness of this area to the docks. In this area lived approx 100,000 Jews who settled here because it was not far from where they disembarked from their journeys from Eastern Europe to escape from persecution – see The Jewish Immigrant in England 1870-1914.
An article about St Paul's Church for Seaman, built in nearby Dock Street in 1847 says of the area; "the district, previously quite up-market with its music halls and theatres, and gracious residences around Wellclose Square, was in decline. As the merchants moved out, the houses became tenements and warehouses, the open spaces and gardens filled up with hovels, cafés and doss houses, and vice was rampant."
An article written in 1934, Well Close, provides a very interesting history of the square together with many photos but also says that Wellclose Square was "once highly respectable residential quarter of the Metropolis, that has suffered much at the hands of man and time".
Maps
The eight maps below are from 1560 to 2010 and chart the development of the area. Click on a map to link to a larger image.
| | |
| --- | --- |
| 1560 | 1690 |
| 1720 | 1830 |
| 1894 | 1922 |
| 1952 | 2010 |
History
In 1560, the area where Wellclose Square was later to be established (see yellow highlight), was mainly farmland.
Much rebuilding of London was undertaken after the great fire of London, 1666, and Wellclose Square was laid out in 1682-3 by Nicholas Barbon ("the most roguish builder-financier" according to Alan Palmer) taking advantage of the 'Liberties of the Tower' charter granted by James II in 1686, with the houses occupied by sea captains and wealthy merchants and can be seen on the 1690 map. At the same time there was the parallel development of Prines Square, named after another 'unpleasant speculator', John Prince.
In 1889, George Booth produced a social survey of London and denominated Ship Alley as "lowest class; vicious, semi-criminal"(see Ship Alley 1889, key coded black - the lowest rank) but fortunately his evaluation of Ship Alley 1898 (key coded purple) improved to "mixed – some comfortable, others poor" which was a few years before Morris moved to Ship Alley. Booth observed that Ship Alley dwellings were mainly occupied by Jewish families.
We can see Wellcross Square/Ship Alley and Princes Square clearly indicated on the 1922 map of Stepney. In Princes Square there was a Swedish Church, built in 1728 and pulled down in 1921. Booth comments in his 1898 survey that Princes Square "used to be a Swedish colony, now Jews live in the square". In 1938 Princes Square was renamed Swedenborg Square after the famous Swedish scientist and mystic Emanuel Swedenborg (died 1772) who lived in Wellclose Square, which we can see in the 1952 map.
Although the houses survived the Blitz they declined and were demolished as slums during the late 1960's, when the area was redeveloped with tower blocks and low-rise flats and a park, called Swedenborg Gardens, which now occupies the area where Ship Alley and Princes Square used to be, as indicated on the 2010 map and clearly shown in this satellite image below.
| | |
| --- | --- |
| St George's Estate, 1970's | Wellclose Sq aerial view, 2010 |
Some other photos of the area (click on pictures to display larger images)
| | |
| --- | --- |
| Wellclose Square 1911 | Wooden Cottage on Wellclose Square |
| Danish Church in centre of Wellclose Sq. built 1696 | Church replaced by St Paul's Church for Seamen School, est 1869 |
| Princes Square 1921 | Swedish Church, Princes Square |
| Wellclose Square Courthouse and Prison (built 1700), 1910 | Grace's Alley, NW corner of Wellclose Sq. 2010 |
This 2010 photo of Grace's Alley, northwest corner of Wellclose Sq (diagonally opposite from Ship Alley) indicates what Ship Alley might have looked like in 1900. Although these buildings look derelict, they are still home to the oldest surviving music hall in the world, Wilton's Music Hall.

Built in 1858, Wilton's Music Hall was the first, and one of the most successful of London's music halls. Charlie Chaplin filmed here. It was taken over by Methodists in the 1880s and run as a mission until 1956, when it became a rag warehouse. For many years it lay dilapidated, used only for film shoots including Karel Reisz's Isadora, starring Vanessa Redgrave, The Krays and Woody Allen's Cassandra's Dream, as well as music videos including Frankie Goes To Hollywood's Relax. It's now home to the Broomhill Opera.

The area was also home to many sugar factories, known as Sugar Houses, including ones located in Wellclose and Princes Square during the 1800's. The red dots on this map indicates where they were: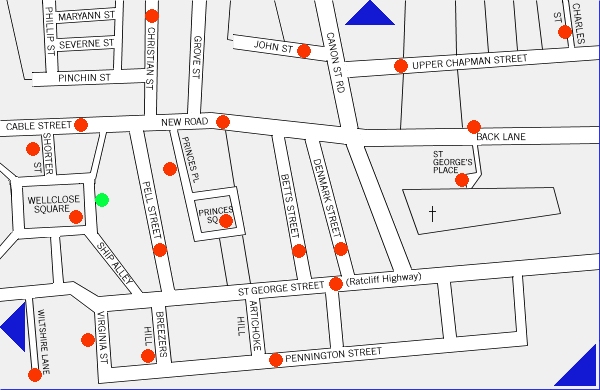 There was also a market held in the square. Here is an extract from Old and New London: Volume 2 by Walter Thornbury, 1878 - "Rag Fair, or Rosemary Lane, Wellclose Square, is mentioned in a note to Pope's "Dunciad," as "a place near the Tower of London, where old clothes and frippery are sold." Pennant gives a humorous picture of the barter going on there, and says, "The articles of commerce by no means belie the name. There is no expressing the poverty of the goods, nor yet their cheapness".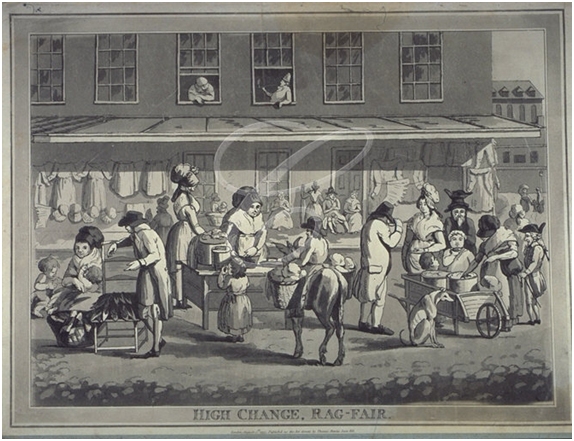 In about 1975, Wellclose Square featured in an episode of The Sweeny ("Poppy"), which shows the style of the buildings before they were cleared for housing projects in the 1960's. St Paul's School in Wellclose Square can be seen in the background.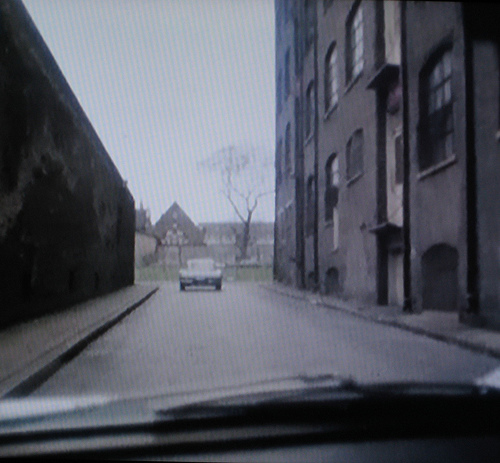 People
Apart from Morris and Esther, other notable people that lived in this area include Emanuel Swedenborg (mentioned above) and Hayyim Samuel Jacob Falk (1708 - 1782), a Rabbi and Kabbalist, who moved to Wellclose Square in 1742 after narrowly escaping being burnt at the stake by the authorities who charged him with sorcery.
Captain James Cook (1728-1779) lived in the area. Both Oscar Wilde (1854–1900) and Arthur Conan Doyle (1859–1930) visited the area but this was for the purpose of sampling opium dens.
Another well-known resident of Wellclose Square was Dr. Nathaniel Bagshaw Ward (1791-1868), physician and botanist. Buried in West Norwood Cemetery.
In 1979 Stephen Knight published a book called "Jack the Ripper: The Final Solution". In it he suggests that there was plot by Freemasons to kill prostitutes within "200 cubits of Wellclose Square" but this theory has since been debunked by historians.
In November 2009, the London Borough of Tower Hamlets approved a plan to implement the Wellclose Square conservation area plan.
A Haymes 2010